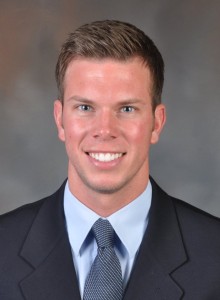 Dr. Kevin Wiseman grew up in South Bend, Indiana where he was Valedictorian of his high school.  He then attended the University of Notre Dame on an academic and golf scholarship and served as the captain of Notre Dame's golf team. At Notre Dame, he received the Knute Rockne Student-Athlete of the Year Award as well as the "Top Gun" Award (presented to Notre Dame's top student-athlete). He completed his dental school training at Indiana University before going on to complete an orthodontic specialty residency at Tufts University, one of the top orthodontic training residencies in the country.
Dr. Wiseman became Board Certified Orthodontist in his first year of eligibility and is a Diplomate of the American Board of Orthodontists. This unique distinction is attained by only 20% of orthodontists. In order to become a Board Certified Orthodontist, Dr. Wiseman had to pass a rigorous set of written and clinical examinations given by a panel of nationally respected experts in the field of orthodontics.
Dr. Wiseman stays at the forefront of his specialty by attending national orthodontic meetings and maintaining memberships in the American Association of Orthodontics, American Board of Orthodontics, Midwestern Society of Orthodontists, Illinois Society of Orthodontists, Orthotown, and American Dental Association. Staying up to date with the latest information and advancements in orthodontics allows Dr. Wiseman to provide the best care for his patients.
Throughout his life Dr. Wiseman has enjoyed giving his time to multiple charitable organizations, mostly having to do with children. Dr. Wiseman loves orthodontics and treating his patients. You will find him skilled, personable, and willing to discuss how you can achieve your perfect smile.